I do not take donations for myself. If you appreciate my work, donate to my charity of choice (via JustGiving), which is Camfed - the Campaign for Female Education.



If you wish to make a donation, here is the link.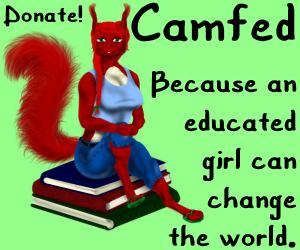 In short, Camfed are dedicated to educating girls in certain underdeveloped nations where girls are not given the opportunity to have an education. If you want to give directly to Camfed, or find out more about what they do, their website is at uk.camfed.org

Perhaps it is a bit narcissistic, but I would like to know how much my readers have donated to this worthy cause because of my efforts. To accomplish this, I ask that you donate through JustGiving. That allows me to keep track of how much is donated via my website. By the way, you may donate anonymously.

I also use JustGiving because:

No money goes to me. I don't 'pay it forward' or the like. I can't touch the money, even if I tried.
JustGiving take only a tiny percentage for administrative costs and ForEx fees - that amounts to anywhere from 6.3% - 8%.
JustGiving take Euros, US dollars, Canadian dollars, pounds sterling and numerous other currencies.
For payment, JustGiving also take a wide variety of credit and debit cards and, for British donors, the dreaded Paypal.
As there is no quid pro quo, UK taxpayers can claim Gift Aid on their donations.
Further details about JustGiving can be found here.

Previously, I would give donors a serialized copy of the illustrated e-book with a bespoke illustration on the fly leaf.

However, for tax purposes, I can no longer do that. Whether you donate or not, feel free to download either the plain version in pdf or the illustrated version, also in pdf. If someone with a kindle wants to help me make a compatible version, please feel free to contact me.

One may download either version of the e-book on the e-book page. Click here.

Please respect my
copyleft
when downloading any content.